Join the football War of the Titans, study the legends of the stars, and win big with Discobolus' end-of-year sticker game: an island-wide celebration of earth-shaking proportions.
END OF YEAR STICKER GAME:
DISCOBOLUS AND THE GOLDEN DISC
Many moons ago, the dusk of each year heralded the annual disc-throwing Olympiad at Landos Giravaros: a gathering of the finest sportsmen and sportswomen from the Earth and the Heavens.
During one such contest, the theft of Discobolus' Golden Disc leaves Zeus in a thundering rage. Who would dare to steal the universe's only Golden Disc – bestowed to the mighty Discobolus by Zeus himself?
An island-wide hunt ensues to discover whose team could possibly harbour such a dastardly thief: Aphrodite's beautiful and nimble maidens; Apollo's warm-hearted artists and musicians; Poseidon's savvy seamen; the fun-loving, wine-drinking friends of Dionysus; Athena's wise and learned administrators; or the hardworking heroes of Hades' unseen world?
Help Artemis investigate by piecing together all those present at the annual disc-throwing Olympiad. New team members will be released daily. Trade your spare stickers for any missing ones with friends, neighbours and fellow Landos residents … then present your completed sticker book to the Landos Bureau of Investigation to redeem attractive rewards – and a chance to win the Grand Prize on 31 December 2016: a Family Resort Stay in a sister Four Seasons property. Good luck!
LEGENDS OF THE STARS
20 December – 6 January
Blu Beach
Open Sessions: 7.30 – 9.30pm
Private sessions: 10:30 – 11.30pm
We're delighted to announce the return of Astronomer Jatin Shivlal Rathod, renowned scholar of the stars, from the Nehru Planetarium in Mumbai, India. Join him on a cosmic stargazing experience to learn the ancient legends of the stars in the vast Maldivian skies with our fabulous NexStar telescope.
Please contact Reception on extension #4 to book a place.
FATTEY'S FOOTBALL CLINIC

Landaa Stadium
20 – 26 December, 4:00 – 5:00 pm
(4.30 – 5.30 pm on 23 Dec)
Join local pro coach, Mohamed 'Fattey' Fasir on the Astroturf every day from 20-26 December to perfect your passing accuracy, nail defensive footwork drills and maximise every scoring opportunity in preparation for the Landos Football Trophy 2016: The War of the Titans!
Suitable for players aged 8 years and above. No advance reservations required. Boots available on request.
WAR OF THE TITANS – THE LANDOS FOOTBALL TROPHY 2016
Landaa Stadium
27, 28, 29 December & 1 January (Grand Final)
2 Group Stage Matches daily: 4:00 & 5:00 pm
Grand Final, 1 January: 5:00 – 6:00 pm
This time, it's war! Join Apollo's 11, Poseidon Tridents, Eros & Arrows and Hermes and the Flying Boots for the greatest mixed guest/staff tournament on earth (or in the heavens).
Prepare for mythological super beings, lightning bolt passes and an epic battle that will ultimately decide the answer to life, the universe, and, just about everything in between.
Seriously. Have you got what it takes to emerge victorious in the Grand Final on New Year's Day? Noisy support welcome!
TEEN PAMPERING: NAILS & HAIR

Daily, 10 am – 1 pm
Complimentary 60-minute session for young ladies and gentlemen
Our 2016 teen treat features the out-of-this world skills of our Rossano Ferretti hairstylist, complete with a beautiful manicure. Create the perfect hairstyle and nails to match for the ultimate feel-good festive pampering.
Boys – don't miss out on the chance to try a new hairstyle and get your nails tidied up too!
Please contact the Spa (or dial 5) to make a reservation.
ALL-NEW MARINE DISCOVERY CENTRE

We are delighted to invite you to immerse yourself in our totally new Marine Discovery Centre: an interactive, state-of-the art tribute to our marine conservation projects.
Explore the pioneering Fish Lab, visit the Turtle Rehabilitation Centre and support the epic efforts of The Manta Trust charity. Join our marine biologists on thrilling safaris and monitoring dives; help to feed the turtles and baby clownfish; and sponsor and transplant your own coral frame.
With big screens, inspiring Prezi presentations and breathtaking displays, gain a fascinating insight into the perilous plight of the Maldives' underwater world and our efforts to preserve it.
UNDERWATER TREASURE HUNT

31 December, 1:30 pm
Landos Giravaros holds many legends of hidden treasure, most of it never recovered… but with some unexpected items having recently appeared on Landos' House Reef, we're calling all certified divers to help us salvage it. We'll share the spoils… but what could they be?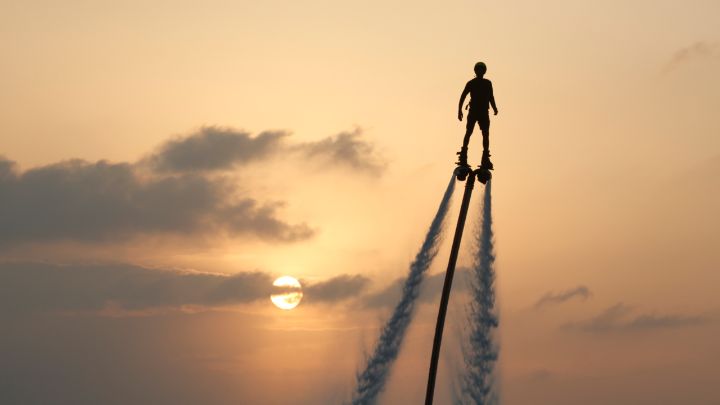 WATER TOYS FOR SERIOUS FUN
Join us to experience with X-Jetpacks, JetBlades, SEABOB rides, parasailing and wakeboarding – the Maldives' most comprehensive range of water toys, available daily from 9:00 am to 6:00 pm at the Water Sports Centre. Advanced booking recommended.
THE 15 (YOGA) LABOURS OF HERACLES
22, 29 December and 5 January
5:30 – 6:45pm
Meet at Fitness Centre
Sentenced to 12 labours – so difficult that they seemed impossible – Heracles overcame all the odds to become Greece's greatest hero. Overcome your own challenges this festive season (with the help of our own supportive Yogi deities) on our 15-station Yoga Energy Trail – an escorted 75-minute, parkour-style quest of balance, strength, agility, flexibility and tone around 15 epic stations located at the island's most awe-inspiring viewpoints.
CHRISTMAS TREE DIVE
Meet at the Dive Centre
25 December, 1:30 – 2:30 pm
Extend your festivities to Poseidon's underwater world with this one-of-a-kind Christmas celebration. Join our dive team to 'plant' a very special tree, then surface to Island Coconut and cinnamon apple tarts. Complimentary for all certified scuba divers.
STARS & BARS
Blu Beach
27 December
9:00 pm – Midnight
After an exhausting day commanding heaven and earth, Zeus likes nothing better than an evening relaxing on the sand at Landos' famed 'Stars and Bars' – an open-air chill-fest complete with craft cocktails and cool DJ beats.  A soul-soothing starlit soirée to savour life, love and living – Landos style…
ANGELIC ATTIRE FASHION SHOW

In front of Resort Shop
2 January, 6:30 pm
Featuring our own immortal deities strutting their heavenly stuff, prepare to be wowed by the Resort Shop's Spring and Summer 2017 Collection in our infamous annual catwalk show.
READ MORE
HOME | HOLIDAY HIGHLIGHTS | HOLIDAY DINING | LITTLE SPRITES & NYMPHS | LANDAA HIGHLIGHTS
More posts from November 2016